Mr. NFL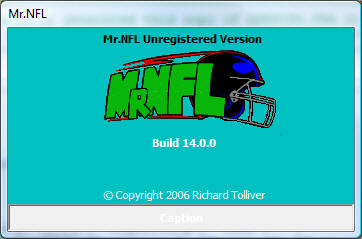 Welcome to Mr.NFL. We've done our best to make this the most useful handicapping tool available, and to do so at a reasonable price. This help file should give you enough information to make you comfortable with the program, as well as give you some valuable information pertaining to the handicapping of NFL games. We hope you enjoy using the program as much as we have enjoyed creating it.
How to use MrNFL:
Getting around in MrNFL
An Average week MrNFL


Specific Screen Information:
Standings (The opening screen)
Formula
Enter Lines
Predict Games
Statistics
Test Formulas
Power Ratings
Other Factors
Import Stats
Input Stats
Single Game
More:
Consensus Report
Speed Options for the Testing screen
Output to HTML
Smart Predict
Built in Editor
Multiple Lines
Team Matchups
Import Schedule changes
General Information:
Registering MrNFL
Shareware - Distribution of MrNFL
What's a good win Rate?
Money Management
Contact information:
Richard Tolliver
3 Monarch Court
Stafford, VA 22554

http://www.mrnfl.com
E-Mail: Rich@mrnfl.com

Copyright © 2007 Richard Tolliver / Tolliver Software. All rights reserved.