Mr.CFB....College made easy.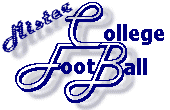 Mr.CFB is our college football program, but we've done everything possible to make you feel like you've used it for years. If you've used MrNFL before, you'll probably never need to look at the help file. It has all the features you've come to love in MrNFL, but instead of the 31 NFL teams it tracks all 128 division 1A teams that are part of the Vegas rotation. Also, like with MrNFL, we're not going to try and sell you on extras, there will be no picks to buy (they're included), and you won't have to pay extra to download weekly stats (can you imagine trying to input 117 teams a week by yourself?), and we won't even try and charge you before you've gotten a chance to thoroughly test the program. Download it now, try it out using last years data and if you don't think it'll help you, then don't register it. If you do think it'll help you, or you just like having all those stats available whenever you want, the program is just $39.95, and if you're a MrNFL or MrOfficePool user, we'll knock 25% off that, so you can register for just $29.95.
Coverage of all 130 NCAA Division 1-A football teams in 13 Conferences.

FREE weekly stats file downloads - keeps you up to date easily.

Stats back to 1983

Conference and team Power Ratings and Strength of Schedule

Predictions - Against the spread or straight up.

Predicts Totals

User editable prediction formulas - lets you fine tune the predictions and come up with "hot" formulas.

Formulas test/generator - allows you test your formulas on previous games/years, and will even save best formulas for a range of values.

'Other Factors' screen - allows you to make adjustments for weather, injuries and more - There's even a spot to leave a quick note on the game.

Free evaluation - try it for the first 8 weeks, no obligation, if you find it useful it's just $39.95 to register and get the rest of the season, including bowl games.
---